Artists
Indian Summer
Gary Bolstad, Tom Draughon, Ron Hulsebus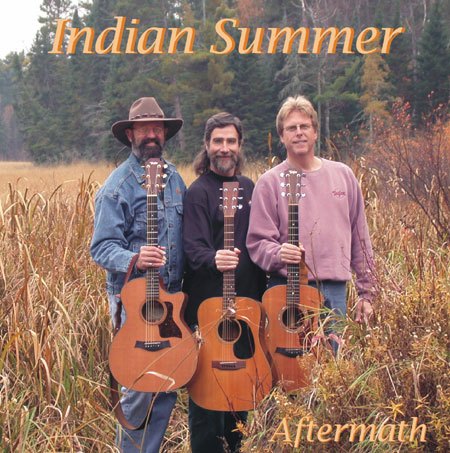 Acoustic Trio Releases New CD! Indian Summer is three excellent guitar players / songwriters with voices to match. Tom Draughon first met Gary Bolstad in the early 1980s, and they have been guitar duo partners ever since. After moving to Omaha, Nebraska Gary met Ron Hulsebus at a guitar gathering where they both noticed each others' Taylor guitars. Gary's insight that all three should get together proved perfect, and the three have recorded a beautiful compilation of original songs. Their intricate, virtuoso fingerstyle guitar playing melds with Bluegrass, Beatles and other influences to create ear candy you'll want again and again. They are now scheduling appearances to promote the new CD. Sound clips available below. And, see the Heartistry Music Booking page for details on arranging a concert.
To Download MP3 files for your digital media player click here!
| | | |
| --- | --- | --- |
| Table of Contents | | |
Aftermath is the name of a summer lake house in northern Minnesota. Indian Summer - that is, guitarist/ songwriters Tom Draughon, Gary Bolstad, and Ron Hulsebus, spent a pleasant week one autumn sharing songs and recording this album of original music. This recording features Taylor guitars and subtle intricate fingerstyle playing combined with emotive lyricism. "A very sweet CD..." - Bob Scranton of Audiophile Systems Limited. 14 tracks. 60 minutes.